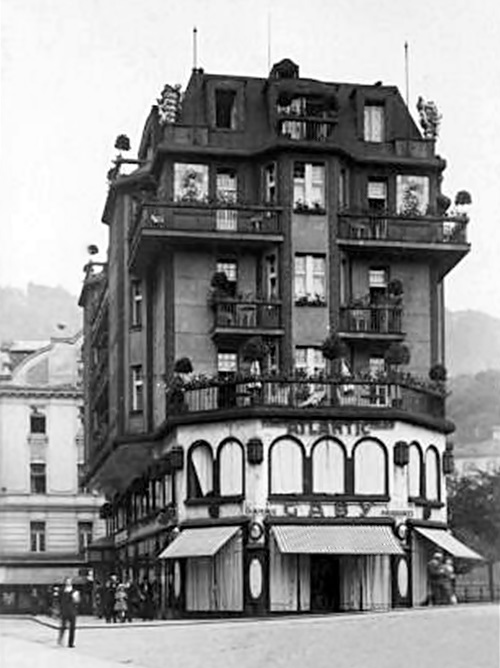 Atlantic Palace is one of the most prominent architectural gems of Carlsbad. Construction was started in 1912 by the Viennese architect Fritz Mahler and the house was opened on May V 1914. Builder of this building was Alois Klein, a respected businessman and hotelier from Carlsbad. In its time, it was clearly the most modern building in the city. The decoration of the house were by designers from the famous Wiener Werkstätte company, which opened an office inside this building. Viennese sculptor Michael Powolny created statues of angels, which still adorn the facade of the building and are its symbols.
The building and its owner had unsettled fate. In 1938 Alois Klein had to escape the fascists abroad and the hause was foreclosed by Greater German Reich. After expropriation by the state in 1945, the palace was slowly devastated, which in 1962 culminated in the destruction of unique onyx facade in the ground floor and mezzanine. Until 1989, the house was used by Carlsbad state company Interhotels. After a lengthy resolution of restitution claims and return to the original owners of the house started at the beginning of the new millennium with its successive corrections. Atlantic for its exceptional value entered in the list of cultural monuments.
After extensive renovation, which was made in the twenty-first century, the hotel has saved all the original elements of style Wiener Werkstätte. Ideas of the Wiener Werkstätte very inspired by the Arts and Crafts movement, which, at that time, affected in England. Wiener Werkstätte, however, had its own unique style, which reflected in their products-jewellery, decorative materials, furniture, ceramics and designs on clothing. The fastener was a hallmark of their simplicity in decoration and shapes and their unusual geometric design. From the Arts and Crafts movement, the Wiener Werkstätte also differed by more focused on a narrower range of customers, their intention was not to produce ordinary products, but rather the individual pieces.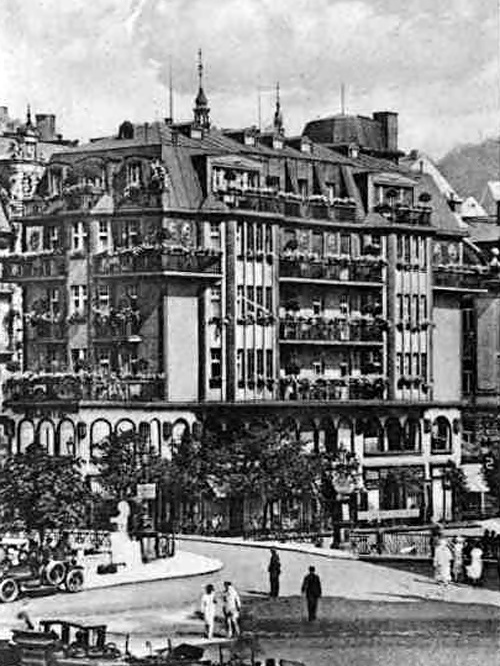 Today EA Hotel Atlantic Palace offers 21 luxurious and stylishly furnished rooms with unique views and balconies, a restaurant on the top floor of the building. The hotel rooms have a beautiful view of the whole town center, St. Maria Magdalene Church, Theatre Square and the famous mixed forests of Carlsbad. Our wellness is opened 12 hours per a day and offers perfect full-service for your health. Relax centre also offers a full spa treatment with hot spring water. Simplicity, elegance, style, luxury-these words accurately characterize the interiors of Luxury Spa Hotel Atlantic Palace. The guest rooms are furnished in bright minimalist chic furniture with debug upholstery, work desk and telephone. Of course there are electronic locks, safe or LCD TV with satellite channels. The room has a spacious bathroom with toilet, shower, bidet, hairdryer, cosmetic mirror and quality cosmetics. Throughout your stay you will have the opportunity to borrow the hotel bathrobes and slippers for extra comfort.